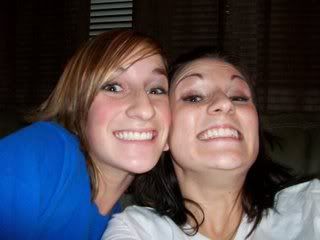 The above pictures were taken at Christmas time in Colorado. I am still waiting to figure out how to get the main set of pictures off a slide show that I was sent. All of Savannah and Jess' pictures are on that. I personally think that Mr. T had something to do with this.
Anyway, I just heard from Alex. He arrived in Alaska safely. Jake called the other night. It was really noisy in the background. He said he was in the "chow line." I thought he said "shower." I asked him why he was calling me from the shower. Wasn't that sort of dangerous?
I have to go to a dumb class on cardiac monitoring tomorrow. Ugh! It is all day long. You know I can't stand sitting for that long. I work Friday, Sunday, and Monday nights. This Friday is Mark's and my 27th wedding anniversary. I can't believe he's put up with me for this long.
Bobbi gave me a really cool health site. It is a support site for healthier living and it is totally free. It is called sparkspeople.com.
Happy New Year. I am still working on my goals!
Au Revoir.
Renée